A
Steering Drag Link
is a part that connects the steering box to the steering idler. It is also known as a pitman arm. A steering drag link is a critical component in the steering system, as it helps the steering system function smoothly and prevents the car from oversteering.The Shaft Diameter of Steering Drag Link is a measurement that helps you determine whether your steering drag link needs to be replaced. It is important to note that the diameter of the drag link varies depending on the brand and model of your car. In some cases, the drag link can be as small as.875", while others have a larger diameter.Before replacing the steering drag link, be sure to check the tie rod end, steering damper, idler arm, and steering gear box. Check for looseness and tightness. Also, check for nut threads and clamp bolts. Ball and socket joints should not be loose or move under the steering load.
High-Quality Drag Link Tie Rod Set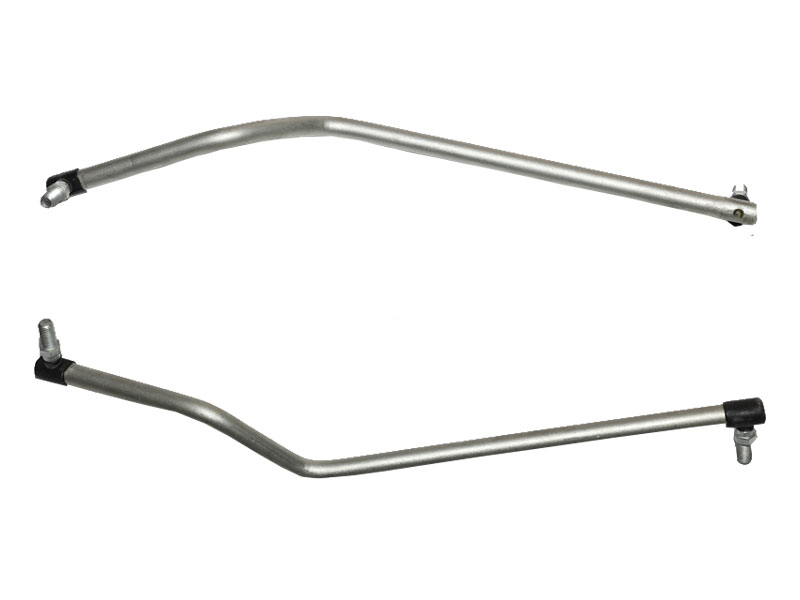 Product Details:
Direct replacement for manufacturer part number(s): GY21251, GY21250
Flip Manufacturing part number: 204648-204631
Aftermarket direct replacement.  Hassle free returns.
Please verify your model is listed below for correct fitment.
The linkage member should not move more than 1/4 inch.Length Center to Center of steering drag links is measured from the center of one drag link end to the center of the other drag link end. Drag links have a ball and socket joint at each end. When measuring drag links, use grease zirc on the ends to provide a reference point for measurement. The center point should be straight, because curved drag links can cause measurement errors.Drag links undergo a lot of stress over time. If your steering drag link is worn or damaged, you may experience less responsive steering. In addition, your truck may have trouble keeping its lane. To avoid such issues, you should check your steering drag link regularly during maintenance and Federal inspections. If you find that the drag link is axially displaced, it's time to replace it.
A steering drag link is an essential part of a steering mechanism that turns the front wheels of a vehicle in response to steering wheel rotation. These links are manufactured using the highest quality basic components and are available at reasonable rates. Depending on the requirements of your vehicle, the material used for your steering drag link can be modified.A steering drag link is made of steel and is used to transmit rotary motion from the first bellcrank to a second one. It is commonly used in automobiles.
One end of a steering drag link is attached to the steering wheel, while the other end is attached to the steering arm. Some vehicles have a rack and pinion steering system that eliminates the drag link.Steering drag links are an integral part of your vehicle's suspension and steering system. When these components fail, they can throw your vehicle out of alignment and cause serious steering problems. It is important to be aware of how to replace these parts to prevent further damage to your vehicle. If you suspect that your drag link may need replacement, you should take it to a certified technician.