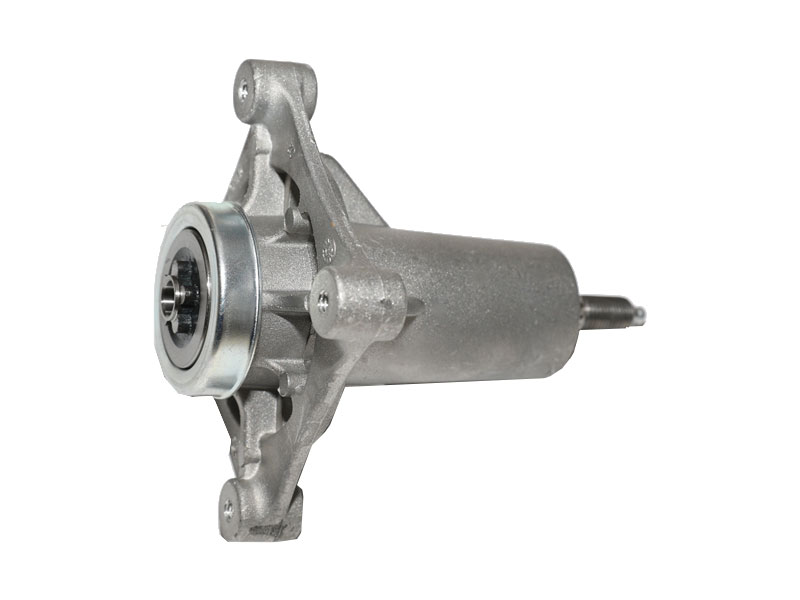 Replaces OEM #: Ariens 21549012; AYP/Roper/Sears 187292, 192870, 532187290, 532187292, 532192870, 539-112057
Replaces OEM #: Husqvarna 532 18 72-92, 587125401; Poulan 539-112057
Includes (1) spindle assembly for AYP, Craftsman, Husqvarna, Poulan and Ariens
Fits: 46" (2) blade decks and some 42" decks. Model: HUSQVARNA: Many(TS TC 138 142), YTH21K46
Features a 4-hole mount

1. The installation process should always be kept clean, especially the sealing surface of the rotating ring and the static ring and the surface of the auxiliary sealing ring should be free of impurities. For dust, it is not allowed to scrub the sealing surface with an unclean cloth. Apply a small amount of oil to prevent the air test pump from damaging the seal faces.
2. The seals cannot be beaten with iron tools. The rotating part should be carefully placed on the shaft and the fixing bolts should be tightened evenly several times. Finally, compress the rotating ring back by hand and observe whether the rotating ring can fluctuate radially. In particular, the positive pressure adjustment between the dynamic ring and the static ring should properly seal the working medium to avoid damage to the mechanical seal of the electronic water pump motor in a short period of time.
3. During installation, the sealing surface of the mechanical seal must have a certain specific pressure (0.4-0.6MPa), so as to achieve the purpose of sealing, and the tightness of the two sides can be adjusted by the torsion spring. In order to ensure a certain specific pressure, the axial momentum of the pump shaft needs to be ≤0.5mm.
4. The winding of the pump shaft should not be too large, resulting in uneven stress between the two sealing end faces of the mechanical seal, no liquid film can be produced, and the sealing effect is lost.
5. Because the vibration will cause damage to the mechanical seal of the pump, it is necessary to adopt appropriate shock absorption measures for the pump seat of the permanent magnet water pump motor.