Electric
Lawn Mower Spindles
motors are divided into two types: side-mounted and back-mounted: ①The side-mounted brush cutter adopts a hard shaft drive and is mainly composed of an engine, a transmission, a clutch, working parts, an operating device, and a side strap. 0 Equipped with a 75-2KW single-cylinder two-stroke air-cooled gasoline engine and a centrifugal friction clutch at one end of the rotating shaft; the other end is equipped with working parts consisting of a reducer and a cutting tool. The small lawn mower has the advantages of simple operation, reliability and durability, convenient maintenance, easy start-up, and high efficiency. It is suitable for harvesting crops such as rice, barley, corn, rape, sugar cane, highland barley beans, hemp, money grass, alfalfa, Prunella vulgaris, shrubs and weeds, flower garden grass, grass, reeds, mulberry branches, tea branches, etc. Ideal tool for cutting and finishing work. It is especially suitable for harvesting, cutting, and transformation of mountainous and hilly areas, high-slope terraced fields, triangular fields, and rotten mud fields, and is suitable for large and small farmlands under various natural conditions.
Lawn Mowers Reliable Genuine OEM Accessory GET ISO Certification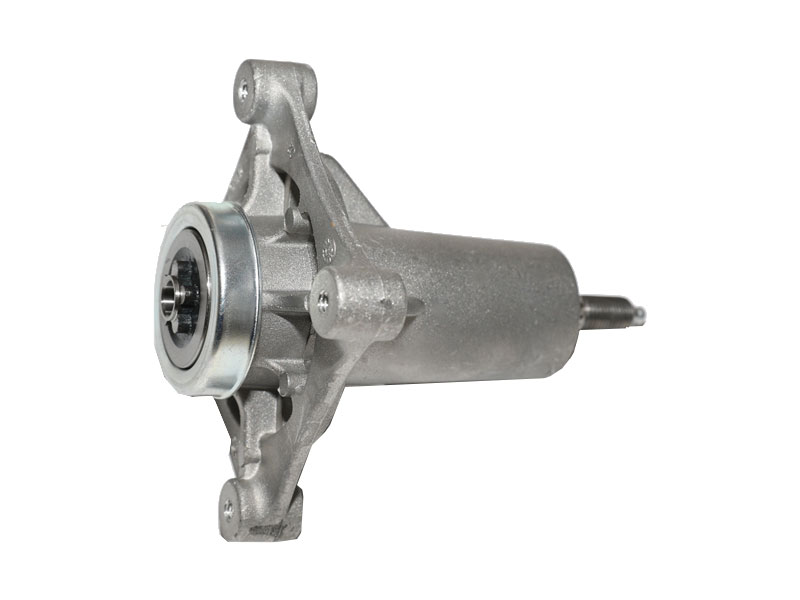 Replaces OEM #: Ariens 21549012; AYP/Roper/Sears 187292, 192870, 532187290, 532187292, 532192870, 539-112057
Replaces OEM #: Husqvarna 532 18 72-92, 587125401; Poulan 539-112057
Includes (1) spindle assembly for AYP, Craftsman, Husqvarna, Poulan and Ariens
Fits: 46" (2) blade decks and some 42" decks. Model: HUSQVARNA: Many(TS TC 138 142), YTH21K46
Features a 4-hole mount


Weeding advantages of lawn mowers:
1. High function: Generally, each lawn mower can weed more than 8 units × 667m2 per day, and its function is 16 times that of manual weeding (00.5 × 667m2 per day).
2. Good benefit: Due to the fast rotation speed of the weeder motor, the cutting effect on orchard weeds is better, especially for weeds with higher tenderness. Generally, weeding is done 3 times a year, which basically meets the weeding regulations.
3. Soil and water conservation: weeding manually. Because the surface soil is loosened while weeding, it often causes a certain amount of water and soil to flow out. Manual weeding on ladders can lead to more serious soil erosion. The weeding with a lawn mower has little effect on the soil surface because it is only the above-ground part of the mowing. In addition, the soil-fixing effect of the grass roots is extremely beneficial to maintaining water and soil.
4. Lane motor energy saving and environmental protection: before the weeds grow to a certain height, choose a lawn mower for weeding. A large number of weeds can cover the orchard, as an organic fertilizer for the orchard, it will not pollute the environment and increase soil fertility.