A deck spindle on a lawn mower is a component of the mower deck that connects the cutting blade to the deck and allows it to rotate. The
Lawn Mower Spindles
is usually mounted on the deck using bolts and has a shaft that extends downward, which is connected to the blade. As the spindle rotates, it drives the blade to cut the grass.
The spindle is an important part of the mower deck and must be properly maintained to ensure efficient cutting performance. Over time, the spindle bearings can wear out and the spindle shaft can become bent or damaged, which can cause the blade to wobble or vibrate during operation. This can result in an uneven cut or even damage to the lawn mower. Regular maintenance, such as cleaning and lubricating the spindle, can help prolong its lifespan and ensure the mower is operating at peak performance.
Lawn mower spindles are an important component of a lawn mower's cutting system. They are responsible for attaching the cutting blade to the mower deck and providing the necessary rotation to cut grass effectively.
A spindle typically consists of a shaft, bearings, a pulley or blade adapter, and a housing or quill. The spindle shaft is usually made of steel and is designed to withstand the stress of the rotating blade. The bearings support the shaft and allow it to rotate smoothly. The pulley or blade adapter is attached to the shaft and drives the cutting blade. The housing or quill is the part of the spindle that connects it to the mower deck.
There are several types of spindles, including plain bearings, ball bearings, and roller bearings. Plain bearings are the simplest type and consist of a shaft rotating in a metal or plastic sleeve. Ball bearings have steel balls that support the shaft and allow it to rotate smoothly. Roller bearings have cylindrical rollers that support the shaft and are commonly used in heavy-duty applications.
It is important to maintain and replace the spindles as needed to ensure proper function and safety of the lawn mower. Over time, bearings can wear out, the spindle shaft can become bent or damaged, or the housing can become worn or cracked. Regular maintenance and inspection of the spindles can help identify and address any issues before they become major problems.
Lawn Mowers Reliable Genuine OEM Accessory GET ISO Certification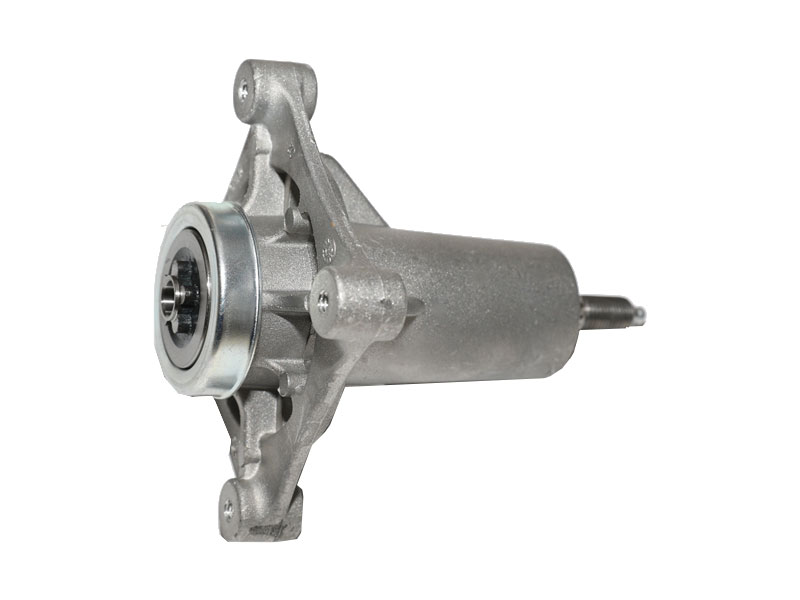 Replaces OEM #: Ariens 21549012; AYP/Roper/Sears 187292, 192870, 532187290, 532187292, 532192870, 539-112057
Replaces OEM #: Husqvarna 532 18 72-92, 587125401; Poulan 539-112057
Includes (1) spindle assembly for AYP, Craftsman, Husqvarna, Poulan and Ariens
Fits: 46" (2) blade decks and some 42" decks. Model: HUSQVARNA: Many(TS TC 138 142), YTH21K46
Features a 4-hole mount