Keeping the
Steering Drag Link
of your vehicle in good shape will increase the longevity of your tires. The simplest way to keep your tires in good condition is to inspect the drag link during a regular maintenance routine. Then, replace the link before it wears out completely.Often overlooked, the ends of a steering drag link are a major component of the steering system. Excessive wear on the joints can result in poor alignment and handling. There are a few signs to look for when inspecting these components.If you hear clunking noises when you are driving or you notice your vehicle drifting while driving, this could be a sign of a bad drag link. A worn drag link can cause your tires to wear unevenly or can create a shimmy in the steering wheel. It can also cause additional stress on your steering components, making it unsafe to drive.If your vehicle has a steering gear, it's important to replace the steering knuckles and bushings as soon as possible. This is due to the amount of corrosion and wear that the components endure.Factory steering linkages usually come with castle nuts and cotter pins to reduce maintenance.
ISO Certified Drag Link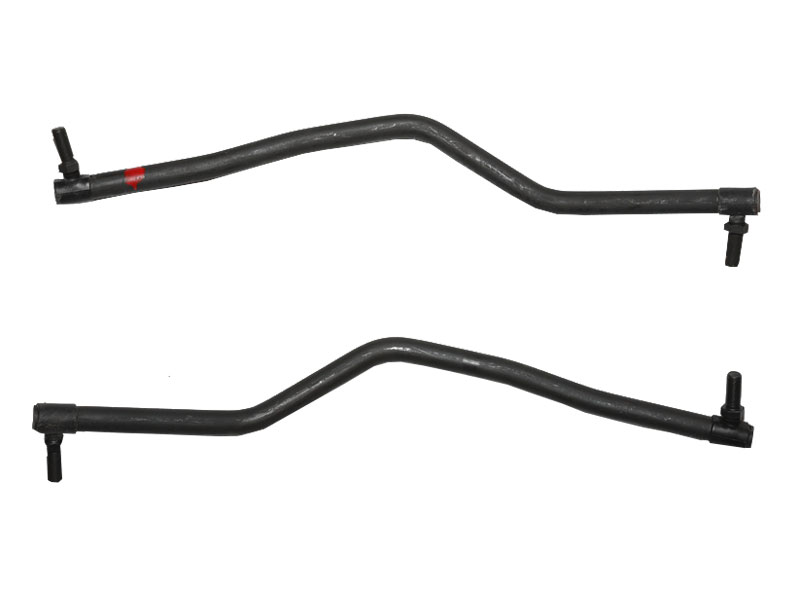 Part Type: LH/RH Draglinks with Lock Nuts
Compatible Equipment Type: Lawn Mower
Interchange Part Number: GY20491, GY20492, GY20439, GY20440


The cotter pins and nut are used to make sure that the joint does not slip. It is a good idea to check them regularly.Another way to find out if your drag link needs to be replaced is to check the wear of the ball joints. These joints act as a pivot between your wheel and suspension. They are designed to take the brunt of the impact. If you notice vibration in your steering wheel, this may be a warning that your ball joints need to be replaced.Performing a pre-trip inspection and early replacement of the steering drag link can help extend the life of your tires. These components are essential for steering your vehicle. If they aren't in working order, your driving experience could be compromised.The first thing you need to do is inspect your tire pressure. If your tires are flat or unevenly worn, it's likely that they are due to wear and tear. It's important to check your tire pressures regularly, especially when you're driving a truck.Another way to measure your tires is to check the sidewall pressure. This indicates the maximum cold pressure allowed for the tires.
If the pressure is lower than the manufacturer's recommendations, you may be able to find a hidden leak.Aside from checking your tires, it's also a good idea to examine your suspension system. If any of your suspension parts are damaged, they should be replaced. If you notice excessive play in your steering wheel, you'll probably need a new drag link.If you're not sure what your drag link is, you can try measuring it using a measuring tape or calipers. However, you can't do it while the drag link is installed.Another way to check your drag link is by disconnecting it from the pitman arm. If it moves horizontally, it's fine. But if it moves tangentially, you'll need to replace it.Keeping your steering drag link in top shape is important for your vehicle's safe operation. If you find that your steering is not working, it could be a sign that the drag link has been damaged. Aside from replacing the entire component, you may need to make a few adjustments to the drag link to fix the problem.The drag link is one of the most important components in the steering system.
It is responsible for converting the sweeping motion of the steering box into a more linear movement. The link is also responsible for connecting the steering arm and the pitman arm.Aside from the drag link, other components of the steering system include the idler arm, the crank, and the tie rods. Each of these components needs to be inspected and maintained properly for optimal performance.If you're looking for an aftermarket solution, you may want to consider Hydrosteer, a company that specializes in the manufacturing of high-performance rod ends. These rod ends are pre-greased and come with anti-seize threads. They are also a good choice for heavy duty trucks. You can contact Hydrosteer via Contact Us or 1300 010 338.Aside from a drag link, the best way to perform maintenance on your vehicle is to check the other components of your steering system. In particular, you should check the center link, the tie rods, the outer tie rods, and the tie rod ends.